9500Ci Laser Jammers and Radar Detectors
As we are all aware that a significant portion of revenue for governments comes from traffic tickets. Since the recession, there is an increasing usage of laser speed detection systems by law enforcement. A typical ticket can cost anywhere from $20-$35 per mile over the speed limit. In addition to the cost of the fine, there will be an impact on the premium of your insurance policy. If you own multiple vehicles, this can add up quickly.

What sets us apart from the rest with our 9500Ci installations? Our master electrical technician alone has over 20 years of experience in this field and specializes in custom applications. We install these units with the thought of an integrated look so that these units do not look like aftermarket add-ons. We seek out precise mounting points that will not protrude, yet we do not install the units so far behind grilles that impede its laser jamming performance. All wiring performed are to OEM specifications for safety purposes and to obtain a sleek look. The finite details for any of our custom installations include the interior modules in which custom displays can be created and wrapped in real leather to match surrounding finishes. For the rear laser jammer, most installs on the market have this unit just bolted on top of the two screws of the license plate. Here at Premier, this is unacceptable. We integrate the rear diffuser so that this unit is flush with the license plate frame.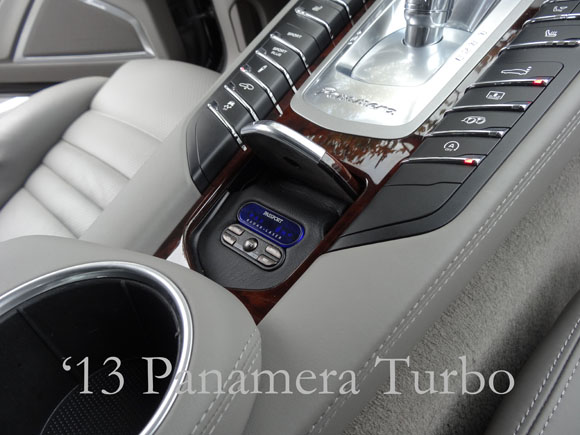 The following is a Ferrari F430 with a 9500Ci installed and the customer was unhappy with the turnout (not installed by us). Below is a photo of how a rear laser jammer is typically installed ("Before"). And on the bottom is a photo of our integrated rear jammer system ("After").
BEFORE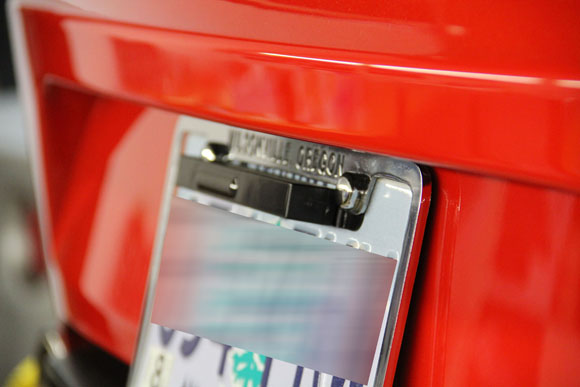 AFTER