Transparent Paint Protection (a.k.a. clear bra)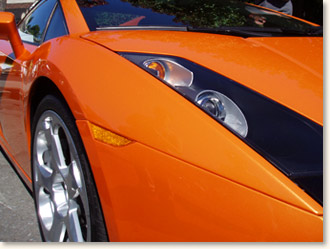 As today's paint technology evolves, so has the culture of maintaining our vehicle's paint. Paint maintenance is no longer about using the proper wax or sealants to protect the paint's surface from the environment. Water based paint is now a standard in the industry due to environmental regulations. Although, paint gloss and clarity is not affected by the paint's composition, the strength is. Paint chipping from freeway driving is now a norm due to its softness. New technology paint must be resolved with a new technology system - 'Premier' Transparent Paint Protection Film.
Although, PPF (Paint Protection Film) has been on the market for over 10 years, it has now become a necessity for those wanting to maintain a chip-free front-end. PPF is a clear urethane film that is designed to be applied onto paint's surface to provide maximum protection for as long as the film stays on the paint. There are various brands of paint protection film on the market (Bekaert, Avery, Venture, Llumar, 3M, and Madico). We are constantly testing different films to ensure we are, in our opinion, using the best film for our distinguished clients.

Elite Paint Protection Installers
In a market saturated with paint protection film installers, it has become difficult for consumers to find the "right" installation facility for their vehicle. Some installers would constantly promote the film, while others would focus on the "kits" design. It is actually the totality of a few ingredients that will ensure full satisfaction with paint protection film. Our company's goal is to produce the cleanest and clearest paint protection film results in the industry. Here are three main ingredients to producing near flawless results:
1. Kit Design (pre-cut and custom)
2. Film Clarity