PF1 PRODUCTS: "Uncompromising Aesthetics and Protection"
Traditionally, plastic cleaners were the main source for cleaning paint protection film. However, these products were never designed specifically for clear bras. Chemicals within plastic cleaners can actually be harmful to the film if left on for an extended period of time. Certain propellants within aerosol canisters are responsible for excessively drying out the pores of the clear bra, which then leaves them open to the elements and yellowing.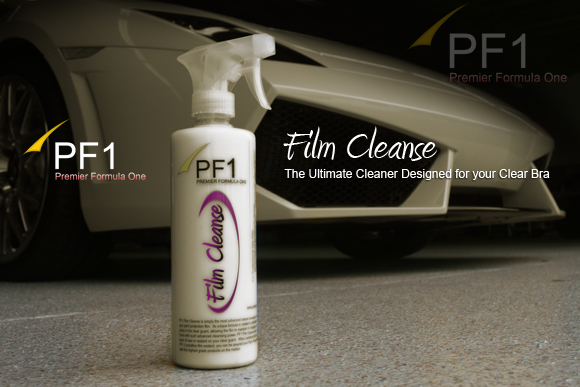 PF1 Film Cleanse is a non-aerosol product that is designed specifically for the acrylic clear coat of today's paint protection film. The clear coat on clear bras are very different from the clear coat on cars' paint today, which is why Premier in early 2008 set out to develop a product that can properly clean paint protection film. The product will not dry out the pores of the film and does not carry any type of polish that can abrade the film. Film Cleanse is a deep cleaner with acrylic resins designed to lift the dirt off the film before cleaning / wiping. The product not only deep cleans, but it also does not strip the film of protective sealants and waxes. 16 oz bottle - $20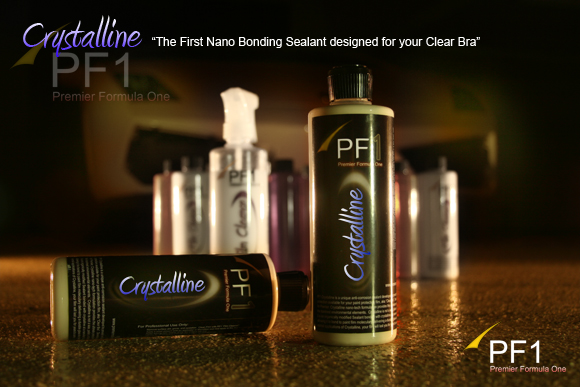 "Protect, enhance, and lengthen the life of your clear bra with PF1 Crystalline"
Crystalline - To properly protect the paint protection film on your car, Crystalline is your solution. Our chemists were directed to create the world's first nano bonding sealer for all types of paint protection film. Not only does PF1 Crystalline assist in protecting your investment on the clear bra, but it also provides added depth to the film that has never been accomplished before. The product does not contain any dyes that can potentially yellow the clear bra. The design of the nano crystals within Crystalline will bond with the acrylic clear coat of your paint protection film providing a long-lasting protective coating that also adds a deep shine and gloss to your investment. Cure time for Crystalline is only 15 minutes vs. some paint sealants to take up to 8 hours to cure. Once the crystals bond to the pores of the film's clear coat, removal of the residue is easy and does not flake to a powdery form. 16 oz bottle - $58 (lasts approximately 8-12 months).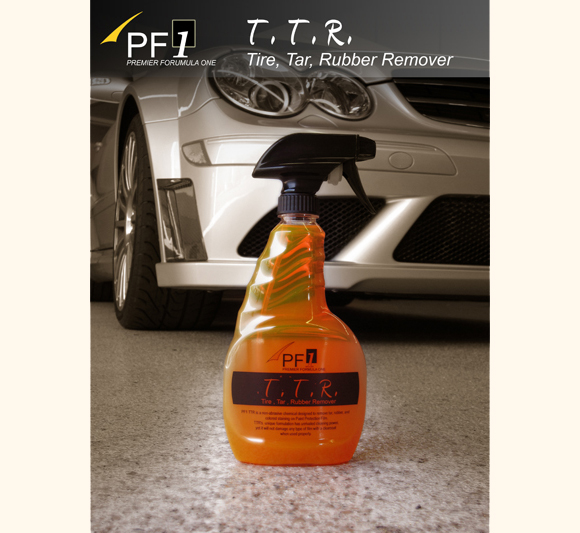 TTR - Do track smudges, rubber marks, and other types of transfers mar the surface of your clear bra? PF1 TTR was engineered by Premier to assist in removing tough, stubborn markings from paint protection film. For years, customers with paint protection film on their vehicles would have to deal with blemishes on the film that could not be safely removed. Now with our extensive experience in the paint protection industry, Premier was able to develop a revolutionary product that can safely eliminate tough transfer from clear bras. We have tested this product on all major brands of film and have been successful in extracting track rubber, smudges, and colored transfers.
Testimonials:
http://www.6speedonline.com/forums/track-autocross/173897-rub-ber-out.html
http://forums.rennlist.com/rennforums/997-gt2-gt3-forum/575181-clear-bra-cleaning-tips.html?highlight=clear+bra+cleaner
http://www.luxury4play.com/detailing/33901-cone-tire-marks-your-clear-bra-premiers-new-solution.html
http://www.6speedonline.com/forums/gt3-gt2-gt/199433-best-wax-clear-bra-also-best-product-removing-track-smudges.html
$30 for a 16oz bottle that would last 12-24 months depending on usage.
PF1 products are approved by Premier to not harm the paint protection film on your vehicle.
Products are ready for immediate shipment to anywhere in the world. If interested in becoming a dealer or just purchasing any of our exciting new Premier Formula 1 products, please contact a sales associate at the following:
Northern California – 510-623-1308
david@premiermobilegroup.com